Ingesters#
This section contains more detailed instruction for configuring and running Gravwell ingesters, which gather incoming data, package it into Gravwell entries, and ship it to Gravwell indexers for storage. The ingesters described in these pages are primarily designed to capture live data as it is generated; if you have existing data you want to import, check out the migration documents.
The Gravwell-created ingesters are released under the BSD open source license and can be found on Github. The ingest API is also open source, so you can create your own ingesters for unique data sources, performing additional normalization or pre-processing, or any other manner of things. The ingest API code is located here.
In general, for an ingester to send data to Gravwell, the ingester will need to know the "Ingest Secret" of the Gravwell instance, for authentication. This can be found by viewing the /opt/gravwell/etc/gravwell.conf file on the Gravwell server and finding the entry for Ingest-Auth. If the ingester is running on the same system as Gravwell itself, the installer will usually be able to detect this value and set it automatically.
The Gravwell GUI has an Ingesters page (under the System menu category) which can be used to easily identify which remote ingesters are actively connected, for how long they have been connected, and how much data they have pushed.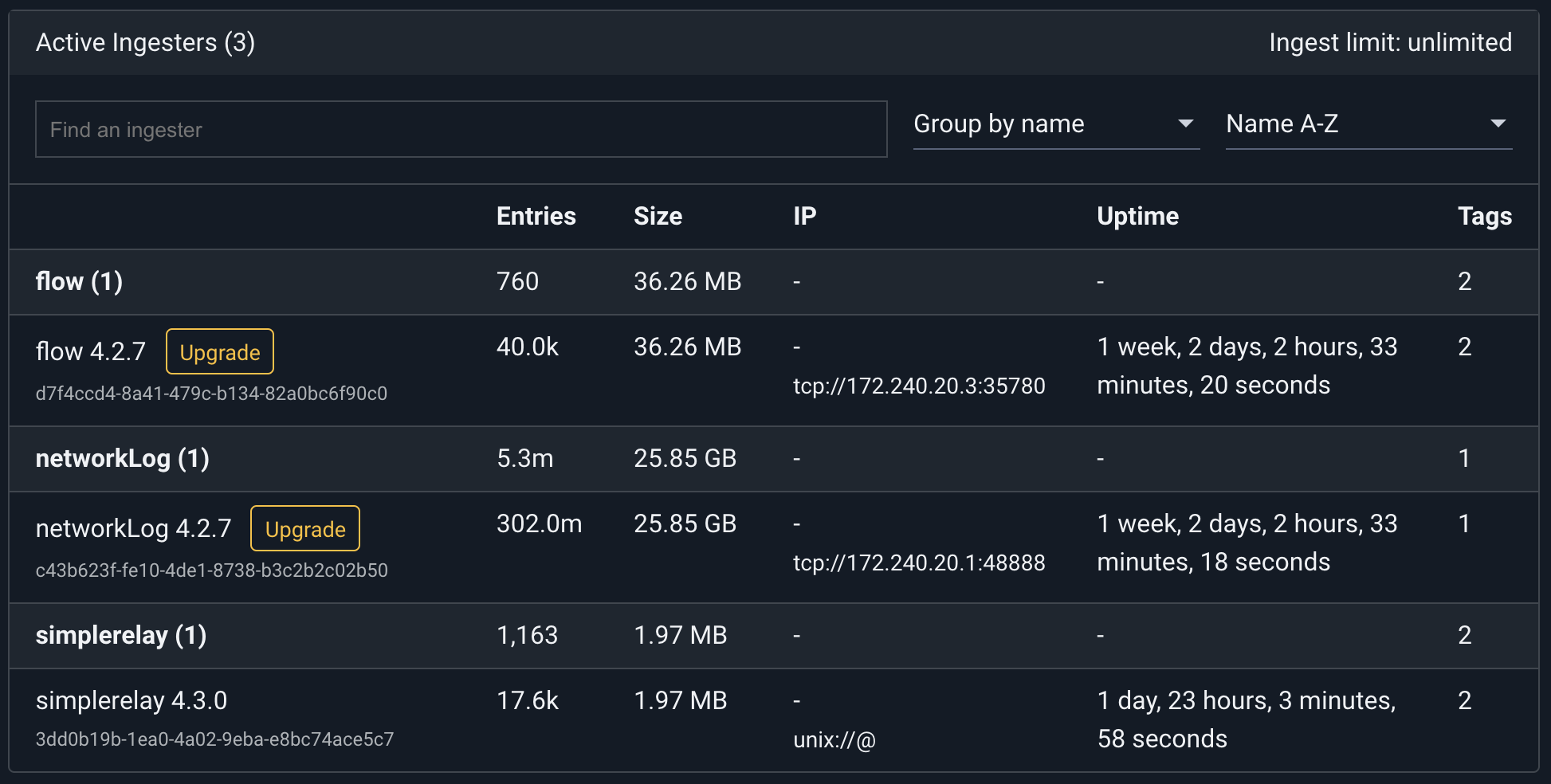 Attention
The replication system does not replicate entries larger than 999MB. Larger entries can still be ingested and searched as usual, but they are omitted from replication. This is not a concern for 99.9% of use cases, as all the ingesters detailed in this page tend to create entries no larger than a few kilobytes.
Ingesters List#
| Ingester | Description |
| --- | --- |
| | Subscribe and ingest from Amazon SQS queues. |
| | Consume from Azure Event Hubs. |
| | Ingest collectd samples. |
| | Watch and ingest files on disk, such as logs. |
| | Fetch and ingest entries from Google Compute Platform PubSub Streams. |
| | Create HTTP listeners on multiple URL paths. |
| | Periodically collect SDR and SEL records from IPMI devices. |
| | Create a Kafka Consumer that ingests into Gravwell. Can be paired with the Gravwell Kafka Federator. |
| | Ingest from Amazon's Kinesis Data Streams service. |
| | Ingest from Microsoft's Graph API. |
| | Collect Netflow and IPFIX records. |
| | Ingest PCAP on the wire. |
| | Ingest Microsoft o365 Logs. |
| | Issue queries and ingest data from Google Stenographer. |
| | Ingest data directly from Amazon S3 buckets, including Cloudtrail logs. |
| | Ingest large records into a single entry. |
| | Ingest Shodan streaming API events. |
| | Ingest any text over TCP/UDP, syslog, and more. |
| | Receive and ingest SNMP trap messages. |
| | Collect Windows events. |
| | Watch and ingest files on Windows, such as logs and EVTX files. |
Global Configuration Parameters#
Most of the core ingesters support a common set of global configuration parameters. The shared Global configuration parameters are implemented using the ingest config package. Global configuration parameters should be specified in the Global section of each Gravwell ingester config file. The following Global ingester parameters are available:
Ingest-Secret

Connection-Timeout

Rate-Limit

Enable-Compression

Insecure-Skip-TLS-Verify

Cleartext-Backend-Target

Encrypted-Backend-Target

Pipe-Backend-Target

Ingest-Cache-Path

Max-Ingest-Cache

Cache-Depth

Cache-Mode

Log-Level

Log-File

Source-Override

Log-Source-Override
Data Consumer Configuration#
Besides the global configuration options, each ingester which uses a config file will need to define at least one data consumer. A data consumer is a config definition which tells the ingester:
Where to get data

What tag to use on the data

Any special timestamp processing rules

Overrides for fields such as the SRC field
The Simple Relay ingester and the HTTP ingester define "Listeners"; File Follow uses "Followers"; the netflow ingester defines "Collectors". The individual ingester sections below describe the ingester's particular data consumer types and any unique configurations they may require. The following example shows how the File Follower ingester defines a "Follower" data consumer to read data from a particular directory:
[

Follower

 

"syslog"

]


        

Base

-

Directory

=

"/var/log/"


        

File

-

Filter

=

"syslog,syslog.[0-9]"

 

#we are looking for all authorization log files


        

Tag

-

Name

=

syslog


        

Assume

-

Local

-

Timezone

=

true

 

#Default for assume localtime is false



Note how it specifies the data source (via the Base-Directory and File-Filter rules), which tag to use (via Tag-Name), and an additional rule for parsing timestamps in the incoming data (Assume-Local-Timezone).
Time#
Timestamp Extraction#
All ingesters attach a timestamp to each entry sent to an indexer. Most ingesters extract timestamps from the data being ingested, such as the timestamp field in Syslog, and ingesters will extract timestamps as appropriate to the data. When an ingester cannot extract a timestamp, or the input data does not have a timestamp at a known position in the input data, the ingester will attempt to find a timestamp (see the list of timestamp formats) using a number of formats.
If the ingester still cannot find a valid timestamp, the current time will be applied to the entry.
When an ingester attempts to find a timestamp based on the list of timestamp formats, it will always try the last successful format first. For example, if an entry has a timestamp 02 Jan 06 15:04 MST, the ingester will attempt to parse the next entry with the same timestamp format. If it does not match, then the ingester will attempt all other timestamp formats.
There are several ways to change the behavior of how timestamps are parsed, detailed in the next section. Additionally, fully custom timestamp formats can be provided in some ingesters.
Time Zones#
Dealing with time zones can be one of the most challenging and frustrating aspects of ingestion. If a log's timestamp includes an explicit UTC offset (e.g. "-0700"), things are relatively easy, but many log formats do not include any time zone information at all! Sometimes, the system generating the log entry is in a local time zone, while the Gravwell ingester's system is set to UTC, or vice versa.
If you believe you have configured your ingester properly, but you're not seeing any data in a query, try expanding your query timeframe to include the future using the "Date Range" timeframe selection: just set the End Date to some time tomorrow. If the Gravwell ingest system is set to a US time zone, but the logs are in UTC time with no offset included, the incoming data will be ingested in the "future".
The Timezone-Override parameter (described below) is the surest way to fix time zone problems. If your data has a UTC timestamp but the system clock is set to another time zone, set Timezone-Override="Etc/UTC". If your data is in US Eastern time, but the system clock is set to UTC, set Timezone-Override="America/New_York", and so on.
Time Parsing Overrides#
Most ingesters attempt to apply a timestamp to each entry by extracting a timestamp from the data. There are several options which can be applied to each data consumer for fine-tuning of this timestamp extraction:
Ignore-Timestamps (boolean): setting Ignore-Timestamps=true will make the ingester apply the current time to each entry rather than attempting to extract a timestamp. This can be the only option for ingesting data when you have extremely incoherent incoming data.

Assume-Local-Timezone (boolean): By default, if a timestamp does not include a time zone the ingester will assume it is a UTC timestamp. Setting Assume-Local-Timezone=true will make the ingester instead assume whatever the local computer's timezone is. This is mutually exclusive with the Timezone-Override option.

Timezone-Override (string): Setting Timezone-Override tells the ingester that timestamps which don't include a timezone should be parsed in the specified timezone. Thus Timezone-Override=US/Pacific would tell the ingester to treat incoming timestamps as if they were in US Pacific time. See this page for a complete list of acceptable timezone names (in the 'TZ database name' column). Mutually exclusive with Assume-Local-Timezone.

Timestamp-Format-Override (string): This parameter tells the ingester to look for a specific timestamp format in the data, e.g. Timestamp-Format-Override="RFC822". Refer to the timegrinder documentation for a full list of possible overrides, with examples.
The Kinesis and Google Pub/Sub ingesters do not provide the Ignore-Timestamps option. Kinesis and Pub/Sub include an arrival timestamp with every entry; by default, the ingesters will use that as the Gravwell timestamp. If Parse-Time=true is specified in the data consumer definition, the ingester will instead attempt to extract a timestamp from the message body. See these ingesters' respective sections for additional information.
Custom timestamp formats are supported on many ingesters, see Custom Time Formats for more information.
Source-Override#
The "Source-Override" parameter instructs the consumer to ignore the source of the data and apply a hard coded value. It may be desirable to hard code source values for incoming data as a method to organize and/or group data sources. "Source-Override" values can be IPv4 or IPv6 values.
Source

-

Override

=

192.168.1.1




Source

-

Override

=

127.0.0.1




Source

-

Override

=

[

fe80

::

899

:

b3ff

:

feb7

:

2

dc6

]



Ingest API#
The Gravwell ingest API and core ingesters are fully open source under the BSD 2-Clause license. This means that you can write your own ingesters and integrate Gravwell entry generation into your own products and services. The core ingest API is written in Go, but the list of available API languages is under active expansion.
A very basic ingester example (less than 100 lines of code) that watches a file and sends any lines written to it up to a Gravwell cluster can be seen here
Keep checking back with the Gravwell GitHub page, as the team is continually improving the ingest API and porting it to additional languages. Community development is fully supported, so if you have a merge request, language port, or a great new ingester that you have open sourced, let Gravwell know! The Gravwell team would love to feature your hard work in the ingester highlight series.
Starting the Same Ingester Multiple Times with Systemd#
There are use cases where you may need to instantiate multiple copies of the same ingester with different configurations. For example, you may need to have two simple-relay ingesters running on the same machine, but with different global configurations. Systemd simplifies this through the use of service templates.
Below is an example service template for simple-relay that allows specifying the configuration file and enabling multiple copies of the simple-relay service.
The below file requires an '@' at the end of the filename. We'll name this file /etc/systemd/system/gravwell_simple_relay@.service
[

Install

]




WantedBy

=

multi

-

user

.

target





[

Unit

]




Description

=

Gravwell

 

Log

 

Relay

 

Service

,

 

Config

:

 

%

i




After

=

network

-

online

.

target




OnFailure

=

gravwell_crash_reporter

@%

n

.

service





[

Service

]




Type

=

simple




ExecStart

=/

opt

/

gravwell

/

bin

/

gravwell_simple_relay

 

-

stderr

 

%

n

 

-

config

-

file

 

%

i




ExecStopPost

=/

opt

/

gravwell

/

bin

/

gravwell_crash_reporter

 

-

exit

-

check

 

%

n




WorkingDirectory

=/

opt

/

gravwell




Restart

=

always




User

=

gravwell




Group

=

gravwell




StandardOutput

=

null




StandardError

=

journal




LimitNPROC

=

infinity




LimitNOFILE

=

infinity




TimeoutStopSec

=

5




KillMode

=

process




KillSignal

=

SIGINT



Note the use of %i in the service file. This allows us to use variable substitution when enabling this service file. We can enable it as many times as needed by specifying the config file in the "name" of the service file:
sudo

 

systemctl

 

enable

 

gravwell_simple_relay

@/

opt

/

gravwell

/

etc

/

config1

.

conf




sudo

 

systemctl

 

enable

 

gravwell_simple_relay

@/

opt

/

gravwell

/

etc

/

config2

.

conf



This will create two instances of the service defined above, each with a different config file, as specified in the commands above. Additionally, the use of "enable" in the commands above will cause these instantiations to persist across reboots and start at boot time.